School Police History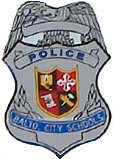 The Baltimore City School Police Force began as the security division of Baltimore City Public Schools in the fall of 1967, under the direction of its first Chief, Harry Hodgins. At its inception, authorized by then Superintendent of Public Instruction, Dr. Laurence Paquin. The force consisted of a total of twenty-one positions. Motivation for the decision to form the force stemmed from a series of highly publicized incidents that occurred at several Junior High Schools in the City. It was decided that a demonstrable need for law enforcement services would and could be best addressed by personnel hired by and responsible to the school system rather than an outside agency.
Over the years the force was expanded to meet the increasing and spreading problems that were and are plaguing our system as they are in most other urban systems around our nation. Internal job specifications were promulgated, a supervisory level was created, general orders were issued, research and planning functions were instituted and the force's responsibilities were increased to include more security patrols at school sites.
In June of 1976 then Superintendent of Public Instruction John Crew, Sr. transferred responsibility for response to after hour's incidents from the division of Physical Plant to the Security Division. Thus, all personnel and property protection functions were consolidated in one office, Non-Commissioned response personnel were moved to the Security Division payroll and two additional commissioned supervisory positions were created to oversee the program.
Since that time, all of the original non-commissioned personnel have been replaced by commissioned Police Officers. Our goal has veen to build a unit of trained law enforcement personnel large enough to perform preventative activities as well as responding to existing problems.
In the fall of 1984 Superintendent Alice G. Pinderhughes decided that the word "Security" no longer adequately described the authority, duties, or responsibility of the agency. Consequently, the Security Division was redesigned as the Baltimore School Police Force with appropriate changes in the tittles of its personnel.
In 1991 The Maryland General Assembly passed Senate Bill #552 pursuant to Article Education Section. 4-406, signed by then Governor William Donald Schaefer, effective July 1, 1991 making the Force sworn and certified Police Officers in accordance with the Maryland Police Training Commission.
In 1994, Dr. Walter Ampry Superintendent hired Major Linda Flood of the Baltimore Police Department as Chief of the Department. Under her leadership this Department obtained marked police vehicles, a change of uniforms, and handguns for each officer, and more training.
In 1997 The Baltimore Police Commissioner Leonard D. Hamm at the time retired Major was given the task of heading this Police Department. Under Chief Hamm's leadership, this Police Department obtained a Criminal Investigation Division, Truancy Unit and Internal Affairs Division.
In 2004 Retired Baltimore Housing Authority Police Major Paul Benson assumed leadership of the Department. Under his leadership The Baltimore Truancy Assessment Center was established.
In 2005 Retired Baltimore Police Colonel Antonio Williams was given the task of heading the department. Under his leadership he developed a Community Affairs Unit and instituted a City Wide Safety Patrol program.
In May 2007, Baltimore City Police Deputy Major Sandra Potts was appointed as the Interim Chief of School Police on loan from the Police Commissioner's Office In a joint partnership with Interim Chief Executive Officer Dr. Charlene Cooper-Boston. Under her guidance and leadership the Department continues to move forward and make progress in creating a safe learning environment within Baltimore City Public Schools.

On August 29, 2007 Chief Executive Officer Dr. Andres Alonso appointed Marshall T. Goodwin Chief of Police for City Schools. Prior to joining Baltimore City School Police, Chief Goodwin retired from the Baltimore City Sheriff's Office at the rank of Major. Chief Goodwin was also the Deputy Chief of Police for Baltimore City Community College. In 2002 he was appointed to the House of Delegates, 40th Legislative District. Chief Goodwin graduated from Edmondson High School 1975, received a Bachelor of Science Degree in Criminal Justice from Sojourner-Douglass College and a Master's Degree in Criminal Justice Administration in 1981 from Coppin State University. Chief Goodwin is also a graduate of the FBI National Academy in 2000.